| | |
| --- | --- |
| | 2009 News |
2009 Season
12th September: Finals Day
The enjoyment and quality of play matched the superb weather at the Colchester and District Friendly League Individuals Tournament Finals Day at Spring Lane, Lexden.
Top performer of the day was Gerry Borley of Little Clacton who was successful in all three finals he contested. He and Steve Codling of Wivenhoe won two events, defeating Andrew Simpson and Robert Burdett of Colchester Lawn 6-4, 6-3 in the Men's Doubles, and Andy Hodgson and Chris Burridge of Spring Lane 6-1, 6-1 in the Veteran Men's Doubles. Earlier he teamed up with Gerry Owens of Colchester Lawn to beat Bob and Kathy Salmon of Colchester Lawn 7-6, 6-2 in the Veteran Mixed Doubles.
The Ladies' Singles title went to Serena Farrow of Colchester Lawn whose 6-0, 6-1 defeat of Linda Taylor of West Mersea was a considerably closer contest than the score suggests. In the Men's Singles, despite having a lively and enthusiastic fan club, Robert Burdett went down 6-4, 6-2 to Chris Burridge.
There were two very close matches. In the first Margaret Mitchell and Phil Bingham of Wivenhoe played the Colchester Lawn pairing of Kathy Salmon and her son Adam in the Mixed Doubles and, despite conceding the second set, won 6-3, 5-7, 7-5. In the other match Melanie Woods and Norika Kelly of Phoenix also slipped up in the second set before defeating the Colchester Lawn pair of Lucy Howes and Serena Farrow 6-2, 3-6, 6-3 in the Ladies' Doubles.
In the final match last year's holders of the Veteran Ladies' Doubles Eileen Richardson and Anne Dunnell of Phoenix surrendered their title to Gerry Owens and Kathy Salmon 6-3, 6-3.
In addition to the trophies presented to the day's individual participants, shields were given to representatives of the winners of this season's team competitions. Little Clacton won the Mixed Division and Colchester Lawn the Men's and Ladies' Divisions.
There were many spectators this year, including our former chairman Les Lamb. So, as shown below, all the chairmen of the Friendly League, past and current, were present.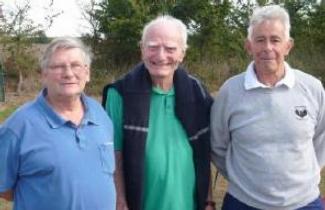 Current Chairman John Sambrook with previous chairmen Les Lamb and David Jones
Mens singles finalists
Chris Burridge (Spring Lane) (winner)
and Robert Burdett (Colchester LTC)
Ladies singles finalists
Linda Taylor (West Mersea)
and Serena Farrow (Colchester LTC) (winner)
Mens doubles finalists
Andrew Simpson & Robert Burdett (Colchester LTC);
Steve Codling (Wivenhoe) & Gerry Borley (Little Clacton) (winners)
Ladies doubles finalists
Noriko Kelly & Melanie Woods (Phoenix) (winners);
Serena Farrow & Lucy Howes (Colchester LTC)
Mixed doubles finalists
Adam & Kathy Salmon (Colchester LTC);
Margaret Mitchell & Phil Bingham (Wivenhoe) (winners)
Veteran mens doubles finalists
Chris Burridge & Andy Hodgson (Spring Lane);
Steve Codling (Wivenhoe) & Gerry Borley (Little Clacton) (winners)
Veteran ladies doubles finalists
Ann Dunnell & Eileen Richardson (Phoenix);
Gerry Owens & Kathy Salmon (Colchester LTC) (winners)
Veteran mixed doubles finalists
Contenders for the Don Rampling Cup
Gerry Borley (Little Clacton) & Gerry Owens (Colchester LTC) (winners);
Bob & Kathy Salmon (Colchester LTC)
29 April
The AGM was held on Tuesday 17th March 2009. The following clubs have affiliated to the Friendly League for the 2009 season and have entered the following teams:
| | |
| --- | --- |
| Colchester LTC: &nbsp | Ladies Team (2-pair), Mens Team (2-pair), Mixed Team |
| Little Clacton: &nbsp | Mixed Team |
| Phoenix: &nbsp | Ladies Team (2-pair), Mixed Team |
| Phoenix Rising: &nbsp | Ladies Team (2-pair) |
| West Mersea: &nbsp | Mens Team (2-pair), Mixed Team |
| Wivenhoe &nbsp | Mens Team (2-pair) |
News from previous years